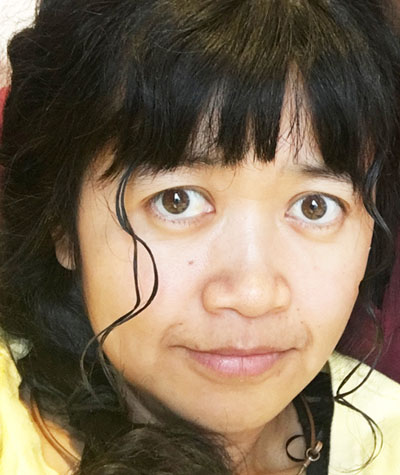 As the first genomics lab in University of South Florida, Rays Jiang lab takes on a pioneer role in establishing a viable research program; as well as pushing the frontier of genomics science. Her lab is developing innovative methods and applications of genomics technologies, including those pertinent to normal and pathological human cells. She has published in high profile journals such as Cell, Science, Nature Communications and Genome Research, and secured diverse funding sources from NIH, NSF and Gates' foundations.
Rays Jiang has a PhD in genomics from Wageningen University, the Netherlands. She has been a computational biologist at the Broad Institute of MIT and Harvard and Harvard University. She came to USF with the vision to establish one of the first hybrid labs to synthesize computational biology and experimental sciences.
Selected publications
Brancucci NMB, Gerdt JP, Wang C, De Niz M, Philip N, Adapa SR, Zhang M, Hitz E, Niederwieser I, Boltryk SD, Laffitte MC, Clark MA, Grüring C, Ravel D, Blancke Soares A, Demas A, Bopp S, Ruiz B, Garcia A, Wirth DF, Darmach E, Duraisingh MT, Adams JH, Voss TS, Waters AP, Jiang RHY, Clardy J, Marti M.
Lysophosphatidylcholine Regulates Sexual Stage Differentiation in the Human Malaria Parasite Plasmodium falciparum.
Cell 2017 PMID: 29129376
Ganter M, Goldberg JM, Dvorin JD, Paulo JA, King JG, Tripathi AK, Paul AS, Yang J, Coppens I, Jiang RHY, Elsworth B, Baker DA, Dinglasan RR, Gygi SP, Duraisingh MT.
Plasmodium falciparum CRK4 directs continuous rounds of DNA replication during schizogony.
Nature Microbiology 2017 Feb
Cheemalapati SV, Winskas J, Wang H, Konnaiyan K, Zhdanov A, Roth A, Adapa SR, Deonarine A, Noble M, Das T, Gatenby R, Westerheide SD, Jiang RHY and Pyayt A.
Subcellular and in-vivo Nano-Endoscopy.
Scientific Report 2016 Oct
Wang CQ, Adapa SR, Gibbons J, Sutton SG and Jiang RHY
Punctuated chromatin states regulate Plasmodium falciparum antigenic variation at intron and 2kb upstream regions
BMC Genomics 2016 Aug
Bronner IF, Ottoa TD, Zhang M, Udenze K, Wang CQ, Quail MA, Jiang RHY, Adams JH, Rayner JC.
Quantitative Insertion-site Sequencing (QIseq) for high throughput phenotyping of transposon mutants.
Genome Research. 2016 May 10
Dankwa S, Lim C, Bei AK, Jiang RHY, Abshire JR, Patel SD, Goldberg JM, et al.
Ancient human sialic acid variant restricts an emerging zoonotic malaria parasite.
Nature Communication 2016 Apr 4
Pradhan A, Siwo GH, Singh N, Martens B, Balu B, Button-Simons KA, Tan A, Zhang M, Udenze KO, Jiang RHY, Ferdig MT, Adams JH, Kyle DE.
Chemogenomic profiling of Plasmodium falciparum as a tool to aid antimalarial drug discovery.
Scientific Report 2015; Nov 6;5:15930
Pellé KG*, Jiang RHY*, Mantel PY, Xiao YP, Hjelmqvist D, Gallego-Lopez GM, Lau AO, Kang BH, Allred DR, Marti M.
Shared elements of host-targeting pathways among apicomplexan parasites of differing life styles.
Cell Microbiol 2015; May 21
Egan ES, Jiang RHY, Moechtar MA, Barteneva NS, Weekes MP, et al
A forward genetic screen identifies erythrocyte CD55 as essential for Plasmodium falciparum invasion.
Science 2015 ; 348(6235):711-4
Paul AS, Saha S, Engelberg K, Jiang RHY, Coleman BI, Kosber AL, et al
Parasite Calcineurin Regulates Host Cell Recognition and Attachment by Apicomplexans.
Cell Host Microbe 2015
Coleman BI, Skillman KM, Jiang RHY, Childs LM, Altenhofen LM, et al
A Plasmodium falciparum histone deacetylase regulates antigenic variation and gametocyte conversion.
Cell Host Microbe 2014; Aug 13
Jiang RHY, de Bruijn I, Haas BJ, et al.
Distinctive expansion of potential virulence genes in the genome of the oomycete fish pathogen Saprolegnia parasitica.
PLoS Genetics 2013 Jun;9(6)
Jiang RHY, Stahelin RV, Bhattacharjee S, Haldar K. Eukaryotic virulence determinants utilize phosphoinositides at the ER and host cell surface.
Trends in Microbiology. 2013 Mar;21(3):145-56
Tripathy S and Jiang RHY
Massively parallel sequencing technology in pathogenic microbes (book chapter)
Methods Mol Biol 2012 835:271-94 PubMed PMID: 2218366
Jiang RHY and Marti M
A PIP Gets the Plasmodium Protein Export Pathway Going
Cell Host Microbe 2012 Feb 16;11(2):99-100 PubMed PMID: 22341457
Jiang RHY and Tyler BM
Mechanisms and evolution of virulence in oomycetes
Annu Rev Phytopathol 2012 Vol 50 Sep 8;50:295-318 PMID: 22920560
Neafsey DE, Galinsky K, Jiang RHY, Young L, Sykes SM et al.
The malaria parasite Plasmodium vivax exhibits greater genetic diversity than Plasmodium falciparum.
Nature Genetics 2012 Sep;44(9):1046-50.
Raffaele S, Farrer RA, Cano LM, Studholme DJ, MacLean D, Thines M, Jiang RHY, Zody MC, et al
Genome evolution following host jumps in the Irish potato famine pathogen lineage.
Science 2010 Dec 10
Haas BJ, Kamoun S, Zody MC, Jiang RHY, Handsaker RE, Cano LM, et al.
Genome sequence and analysis of the Irish potato famine pathogen Phytophthora infestans.
Nature 2009 Sep 17;461(7262):393-8
Jiang RHY, Tripathy S, Govers F, Tyler BM.
RXLR effector reservoir in two Phytophthora species is dominated by a single rapidly evolving superfamily with more than 700 members.
PNAS 2008 Mar 25;105(12):4874-9